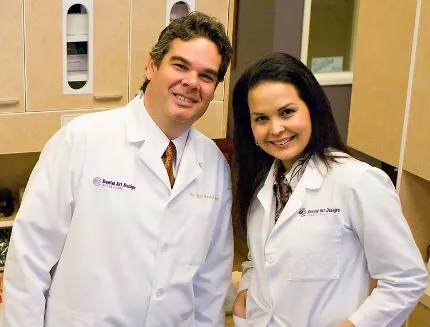 Dental Art Designs at EastLake is the practice of husband-and-wife team Juan Andre Gomes. D.D.S. and Diana Vasquez D.D.S. located in the Chula Vista community of EastLake.
Dr. Gomes is a graduate of the Advanced Education Program in Implant Dentistry and Prosthodontics at the School of Dentistry, Loma Linda University. This unique 3 years advanced education program provided doctor Gomes with the proficiency level and capability to deliver quality implant dentistry treatment in different clinical situations involving both, the surgical, and the prosthetic aspects of the dental implant treatment.
Dr. Vasquez received her D.D.S degree at the Universidad Central de Venezuela in 1989. She and Dr. Gomes are affiliated with a number of professional organizations including the American Dental Association, the California Dental Association, and the San Diego County Dental Society. Dr. Vasquez brings artistic vision to our dental treatments and has a caring patient manner. Her areas of interest include pediatric, periodontal, cosmetic dentistry, and invisalign.
Proud parents of two children, Dr. Gomes and Dr. Vasquez enjoy balancing the demands of their professional careers with the gratifications of family time that include participation in sports and artistic activities.